Friday, April 3rd, 2009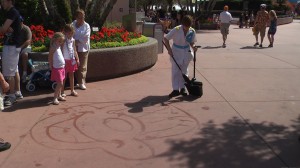 I was surprised to see a small crowd gathering on the walkway to The Land the other day. (Where the fantastic Future Corps band used to play.) At first it appeared that a cast member was cleaning up the area. Then I noticed that the sweeper was actually dipping the broom in a dust pan that was filled with water. Then brusing the walkway. Rather than cleaning up, she was actually entertaining. (or both) "Tammy" was engaging visitirs with a guessing game as she drew a large image of what turned out to be Minnie Mouse. It was a nice interlude for many who would otherwise have just rushed on to the next ride que. It gave them something more to relate to friends when they went home.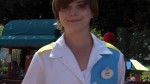 With the staff cutbacks recently, I've noticed a bit less of the personal service that have made the Disney experience stand out in the world of theme parks… okay.. the world. This was a refreshing touch. I just hope Tammy isn't doing this because she used to be an animator.