Saturday, January 24th, 2009
Back in 1986 when Disney World was celebrating the 15th anniversary I was fortunate enough to be in the media gathering broadcasting live from EPCOT. One of the employees I talked to was a painter who I met in the pre-dawn hours before the park opening. He was giving a restroom door in Communicore West a very thin coat of paint. He told me "we never stop painting".
Well the one thing I never thought of was polishing the panels that cover the base of Spaceship Earth. Back in November it was suddenly dull. Since nobody was working on it at the time, I wasn't sure if it was being changed to a less reflective surface. Well it's done now and more lustrous than it has been in quite a while.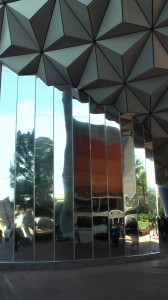 The mirror finish is now perfect. I have to admit that when it comes to jobs at EPCOT, the tedious polishing of Spaceship Earth might be close to the bottom of my list. So, good work guys!