Posts Tagged 'Soarin''
Monday, November 10th, 2008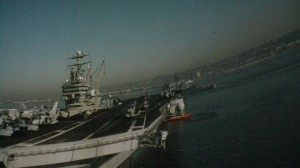 We were at the EPCOT fountains Pin Station after arriving around noon on Saturday when a thoughtful family who had to leave and catch their flight home offered us their FASTPASSes for Soarin'. The other bonus was it was time to use them.
Our first experience during the pre-opening advance viewing just happened to be in the first row center. So we were spoiled with what many think is the best possible Soarin' experience. Since then we've had seats in about every part of the ride. Most designs by the Imagineers provide views that are roughly the same for all guests, but the mechanics of Soarin' just can't do that. Row 1 in all the sections gives you the highest and unobstructed viewing. The other rows get progressively lower and all have some amount of dangling legs and feet at the top. The lower vantage point may also be better for those with any fear of heights, but people who insist on swinging their feet wildly can be distracting. My least liked position is in the third row on the outer end of either "Gate" A or C. Because of the OMNIMAX screen curve and size, you're really on the edge and the realism of the flight is diminished.
Saturday I was in the outside seat of the first row on Gate A. I think I got more feeling of motion and height in that seat than in any other I've had. My peripheral vision of the edge of the screen seemed to enhance the motion. Looking down actually gave me a tingle and a bit of butterflies. It was great!
The moral is, don't get locked in to a seating preference. You never know when you'll be surpised with a better one.