Posts Tagged 'Mission Space'
Monday, July 13th, 2009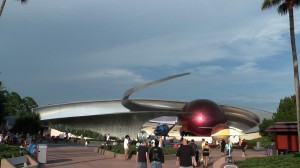 If you are at EPCOT on any day that a Space Shuttle launch is scheduled, head over to the Mission Space plaza. With a little advice from cast member Robert when we were walking in from the parking lot, we found out that viewing of launches at Kennedy Space Center was ideal when looking directly over the Space attraction. In addition to the lack of trees or buildings to block your view, we decided that it made the perfect setting to view actual space missions.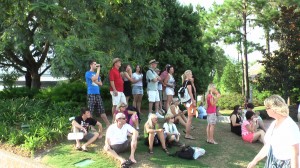 It turns out that we were not alone. The walkways and grassy knolls were full of people who at launch time were looking at their watches, raising camcorders and pointing eastward. Unfortunately today shuttle Endeavor was scrubbed because of bad weather at the Cape. We knew that because we were monitoring the launch progress on my iPhone. We informed the group and went inside the pavilion.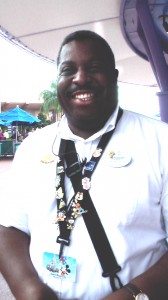 I overheard some cast members in the gift shop discussing the pending launch and I informed them of the scrub. They told me of the throngs that gather to view launches there. So I wondered why nobody was out there assisting.
Since the word is out about this unique viewing opportunity,  I saw cast member Robert again when we were headed out of the park and I suggested that Disney make it more of an event and actually add a countdown clock on the Mission Space plaza. It's something that should have been in place at EPCOT all along. It's a natural. He thought it was a good idea.
Hey, they could at least play the NASA audio on the area sound system so visitors didn't have to rely on the guy with an iPhone to know what's going on.