Posts Tagged 'Japan'
Saturday, November 1st, 2008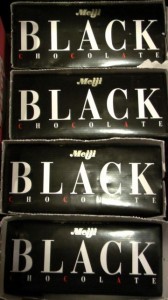 We have always been fans of good chocolate. It's amazing how different it can be based on chocolate content, cocoa butter, mixing time, wax and a host of other things. I know, that's more than most people think of, but because our family has been to Chocolate World at Hershey Park numerous times with my brother, we have an in-depth working knowledge of the manufacturing.
A couple of years ago I was in the store it the Japan pavillion and noticed this stark candy bar. I have to admit the name and package almost makes you think of licorice, but it also entices with the promise of a deep chocolate experience. At $2.75 it's not a cheap candy bar. But that first taste, sitting on the rocks next to the Koi pond, hooked us. Intense flavor and creamy texture, yet firm enough to keep in your belt pack while exploring more of the World Showcase.
It's in stock most of the time now, though about a year ago it was gone for several months and I wanted some as a little gift for my wife. I actually found it online from an Anime store in California. Believe it or not it was more expensive than at EPCOT! So try it, but leave a few bars in the box for me.