Wednesday, March 25th, 2009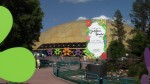 The former Wonders of Life pavilion is open weekends during the EPCOT International Flower & Garden Festival. It features presentations by a variety of horticulture experts. Oddly enough they set up seating areas for those while closing of the stage areas built into the pavilion with potted plants. There are also specialty items, art and books for sale that seem to be duplicated elsewhere in the park.
The best thing is a very complete video in the former "Making of Me" theater where they are showing "The Making of The EPCOT International Flower and Garden Festival".  It details what it takes to do such a massive undertaking like this festival. Things you never get to see like the many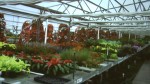 greenhouses Disney operates, how they make the topiaries, and the military precision of installing the entrance area landscape in a single night. It's a long presentation that is narrated by the cast members who actually do the work. The only negative was that the music toward the end repeats way too often. On the other hand the bulk of the music track uses familiar themes found around the park that set a nice pace for the editing. A lot of the footage is from this year, but some archive scenes are evident as well. Including a few of the dreaded Mickey Wand on Spaceship Earth.
It's well worth walking over to the "Wonders" area. Then when you're inside wonder if all of the Body Wars and Cranum Command stuff is still behind the temporary walls.