Posts Tagged 'Flavors of EPCOT'
Monday, October 28th, 2013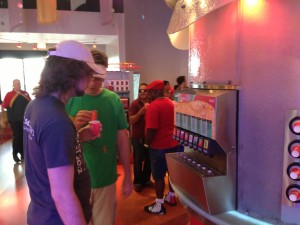 Wednesday October 30, 2013 the lineup of beverages in the sample soda fountains at Club Cool will change. A couple of our favorites will be staying. Here's the new ineup:
NEW Fanta Pineapple: Fanta Pineapple is caffeine-free and features a sweet pineapple taste.
NEW Fanta (Melon Frosty): This is the number one soft drink of Thailand. Obvoiusly it has a melon flavor.
NEW Bibo: Bibo is a fruit flavored line of juice drinks popular in South Africa.
NEW Sparberry: A raspberry flavored cream soda.
NEW Guarana Kuat: This is a guarana berry from Brazil. The word comes from the Guarani word guna, which translates to 'fruit like the eyes of the people."
NEW Inca Kola: Known as "The Taste of Peru," Inca Kola has an unusually sweet fruity flavor that many compare to the taste of liquid bubblegum.
STAYING!! VegitaBeta: Our personal favorite from Japan is a non-carbonated beverage with apricot and passion fruit flavors and is rich in beta-carotene.
STAYING Beverly: With it's bitter flavor, no doubt this is staying because of the unique experience it offers to the uninitiated.
These flavors are only available in the United States at Epcot and World of Coca-Cola attractions in Atlanta and Las Vegas.
In case you're wondering what you will miss in the future, going away are: Smart Watermelon, Kinley Lemon, Fanta Colita, Lift Apple, Mezzo Mix, and Krest Ginger Ale. I'll miss the Smart Watermelon and Mezzo Mix.