Tuesday, August 4th, 2009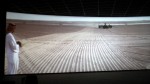 The boat ride at The Land pavilion that had the name Listen To The Land (with it's catchy theme song) when EPCOT opened in 1982 and  Living With The Land since  1993 is closed for refurbishment. It seems that the closure on August 2nd surprised many. Some cast members working at Soarin' were not even aware of it. Nothing official has come from Disney, but an anticipated opening on November 1 has surfaced.
A popular attraction for many, the relaxing and informative boat ride had it's last minor update when they added the pre-recorded narration that eliminated the ride along cast member. That was obviously a cost-cutting measure and did little to make the attraction better. The recording had become stale since it was never revised, though the inside of the greenhouse changed. The live narration was always interesting, because you never knew how good, or notably bad the spiel was going to be.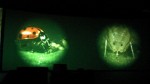 I'm trying to get an official report from Disney, but there are rumors about about new larger boats. (Some posts say that they were delivered and couldn't make the turns in the flume.) I don't see bigger boats as a real need. I'd guess that boats with video screens would be more likely a reason for replacements. That or the others were simply wearing out.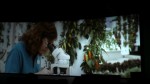 The films are said to be finally getting an update. They have been dated for a long time. (As is The Circle of Life that runs upstairs.) How cutting edge is is to use salt water in arid countries, recycle leaves, use bugs to eat other bugs, or to raise crops in space?
The lab was always intriguing, though often empty. Even so, we still check out the vials of "cloned" plants for sale in the gift shop. We've purchased many of them over the years. Some are still thriving in our outer (backyard) space.