Thursday, May 14th, 2009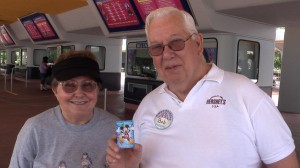 I took my brother to EPCOT yesterday for his birthday. As the family birthdays  roll around one by one we're taking advantage of the Disney Celebrations offer. Though he and wife Dolores live in Pennsylvania they've visted many times over the years. They are as big a fan of Disney World as anyone anywhere. The attractions have alway been appreciated and enjoyed, but just experiencing the parks is enough. Of course, living near Hershey Park (note the shirt) they have annual passes there, and enjoy those entertainment options too.
EPCOT however, holds one of Bob's favorite attractions, The American Adventure.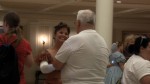 Like me he is moved by the experience. This time though the Voices Of Liberty in the pre-show also offered a treat that he had somehow not seen and heard before. They were in fine form. "Battle Hymn of The Republic" in particular was performed in dynamic perfection.
Bratwurst it Germany sparked memories of time they spent there when he was in the army.
T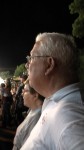 hanks to the button provided along with the ticket, as the day progressed the greetings of "Happy Birthday Bob" multiplied. Cast members, strangers and others who were also sporting their birthday buttons all chimed in. Bob said he had never had so many good wishes on his day. It really was a bonus that I wouldn't have expected.
We made it to almost all of the attractions and the day was capped with what has to be one of the finest shows in the world. The music and choreographed fireworks of Illuminations brought the day to a dramatic brilliant climax that was eclipsed only by the enjoyment of a perfect day.
Happy Birthday Bob!