Author: Mike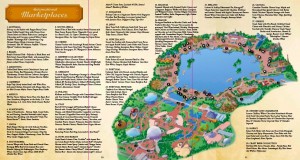 This is the first weekend of our favorite event at EPCOT. The EPCOT International Food and Wine Festival is underway. We simply call it "The Food Festival". It's an event that we have attended every year since it began. It also spawned many copies in other places, but they pale in comparison. The event is promising some changes this year in the food lineup. I've heard of 30 new taste treats. The prices for the sample size plates are $3 – $6 this year. Up considerably from the under $2 that they were in year one, but it still seems worth the splurge for the gourmet level that many dishes achieve. The perfect weather here in Florida this weekend will no doubt contribute to some huge crowds, but we're hoping that the Magic Kingdom 40th Anniversary Day which is also today will temper some of that.
Look for posts on our favorite finds to follow. Click here for your copy of  2011-food-and-wine-map
Tags: Food & Wine Festival
Leave a Reply
You must be logged in to post a comment.