Archive for July, 2010
Tuesday, July 20th, 2010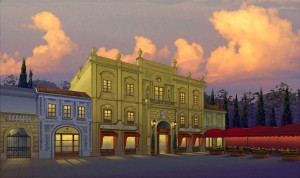 The new restaurant at the Italy Pavilion at Epcot will start taking reservations Aug. 6 for Sept. 10, the official opening day. Via Napoli will have a "Grand Opening" celebration Aug. 5, but the restaurant will be in a "soft opening" walk-in phase with no reservations between then and Sept. 10.
There is one menu for both lunch and dinner. There are several vegetarian options, including the pizza Margherita, fusilli pasta in a Southern Italian-style pesto, salads, minestrone and more. The pizza will be the main attraction. Since the restaurant is table service only there will be no quick service. But the wood-fired pizza may well be worth the trouble. It comes in three sizes: individual; large with eight slices; and a "mezzo metro," or half meter, that is 12 slices. That's reminiscent of the full pizza we used to get in Pasta Piazza that used to be where the character greeting area is now located in Future World
Disney Dining Plan will be accepted (one point per person per meal).  For those of us who pay as we go the average check is around $23… if we can get in.