Saturday, October 10th, 2009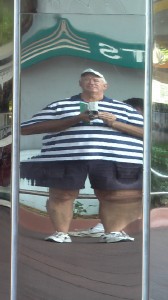 Okay, my annual feast is exaggerated (greatly!) by the clown-mirror effect found in reflections at the base of Spaceship Earth. But the EPCOT International Food and Wine Festival lives up to expectations again this year. We've been to every one, and it was a surprise that some of the crowd favorite dishes served for several years were gone. Some of the new offerings were much better a few were less than stellar. I'll feature them in upcoming posts.
In the meantime my advice is to hit the World Showcase early and go clockwise. It will minimize some of the unseasonal blazing heat we are enduring. (It's why the event was originally in November)  Then take one of the boats back to Future World during the late afternoon to enjoy the cooler attractions before going back out for the evening. Expect crowds on the weekends, but the lines at the food kiosks seem to move faster than in years past.
Another tip: Some kiosks have pay stations that you can approach from either direction, or multiple lines. You may find that a long line forms at one, while the other is empty. So take a look at the menu board first and look around to see the how the ques are arranged to save some time.
Then don't forget to get your reflection picture on the way out at Spaceship Earth. Maybe you will find a panel that will slim you down.