Author: Mike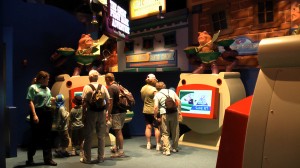 When I tried the new "Great Piggy Bank Adventure" sponsored by T Rowe Price I was hoping to be wowed. Few new entries to the area have brought any new unique experiences.  I was surprised when the first thing I got was a pig. Yes a hefty piggy bank to carry to each of the stations in the new EPCOT Innoventions attraction. That was pretty cool. The premise is that you take your piggy bank around and get money in it to reach a financial goal by completing various tasks. Well… that was pretty much the only innovation in this larger than life arcade game. The games are pretty lame, and do we need more arcade games in Innoventions anyway?  Though promising to teach financial management and encourage discussion between parents and kids, the only thing this ultimately teaches is that you might lose everything to a wolf at the door who you have no control over. Or, you might be able to make money playing video games.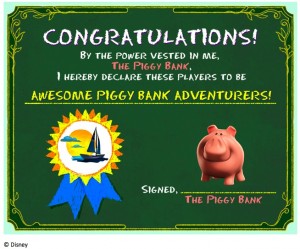 I got my email certificate when I returned home and an invitation to play an online game. The online game is very well designed with the quality you'd expect from a Disney product. It has excellent 3d environments, but after a couple of levels of teaching me about financial decisions I… lost interest. (Pun intended.)
Tags: Changes at EPCOT, EPCOT Sponsors, Innoventions, New at EPCOT
3 Responses to "The Pig Is The Best Part of This Adventure"
Leave a Reply
You must be logged in to post a comment.