Friday, May 1st, 2009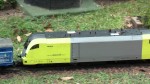 You may not have noticed, but the trains in the outdoor mountainside village have been brought into the 21st century. The older model diesels and prams have been replaced by sleek high speed trains like those now seen in the European countryside.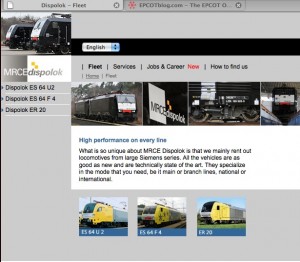 Of course if you take a closer look you will see that EPCOT sponsor Siemans is the branded name on the models. If you are really quick (or take snapshot with your digital camera) you'll see the web address www.dispolok.com. Visiting that site takes you to the source for renting that actual fleet of rail stock.
I don't know if this is an official sponsorship or not. I also noticed a Lowenbrau beer boxcar. As we know, product placement can be very profitable and the subliminal message powerful. I just got thirsty for a trainload of beer.