Tuesday, March 24th, 2009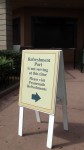 I sadly report that the McDonalds Refreshement Port on the Word Showcase walkway to Canada has closed. The menu boards are gone and so are the long lines of hungry fans who found that this was one of the best snack values in Disney World. Back in November we even used this location as our test point for observing the "use the left lane" theory. The locations at all of the Disney parks are closing because the sponsorship agreement has expired. We saw that they are even tearing down the dramatic stand alone restaurant over by Animal Kingdom.
In addition to being a great value (where a large order of fries was enough to share) the kiosks that were here in EPCOT, at MG… er… Hollywood Studios, PetriFries at Animal Kingdom and across from Pecos Bills at Magic Kingdom were where you could get the best McDonalds fries anywhere.

I know that they weren't fried in lard like the old days, but they tasted better than any fries you can get at other McDonalds locations around the country. It was probably because all they did was fries.  The oil didn't get tainted by other fried foods. Plus they sold so much so fast, the orders were always extra fresh and crisp.
So another of those "remember when" moments has been created.