Thursday, February 5th, 2009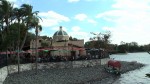 The casual dining locations in the EPCOT World Showcase continue to be the best values at Disney World. Though the prices have increased a bit in the past year they still offer family dining experiences that have good food and unique settings.
Ranking at the top of our list is the Cantina de San Angel at Mexico. Menu items are similar to the more expensive restaurant inside but at much lower prices. The fact that it also offers a waterfront view overlooking the lagoon is a plus and the parade of Ibis at the shoreline provides an entertaining floor show as well.
I'd also recommend the Conga Fruit drink. It's a bit expensive, but a family favorite of ours.