Friday, January 30th, 2009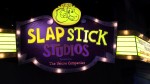 In the dumbing down of attractions at EPCOT to please what must be a pre-adolescent crowd, the low point might be the "Slap Stick Theatre". The Velcro Corporation has paid what I'm sure is substantial sponsorship dollars to do an audience participation re-make of the Lucy and Ethel candy factory sketch. Now I'm a fan of Velcro. It's one of the inventions from the "space race" that has become a part of everyday life. But putting diapers on dolls and sticking as many to your apron as possible is nothing new. And it just doesn't seem like it will have any real impact on our "Future World".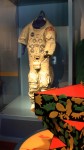 It's sad that the only reference to anything that might expand the horizons of young minds is a spacesuit in the case where visitors can dress Velcro frogs. Frogs! Why not astronauts? Or hand out real Velcro sample kits rather than these pieces of frog clothes that are not good Velcro but are more like the Post It note equivalent.
It seems that when exhibits are being created by these outside sponsor companies, they ought to have some direction from the Disney Imagineers who should set a standard for excellence. It just just doesn't seem like this is an attraction that will stick with people when they go home.