Saturday, December 13th, 2008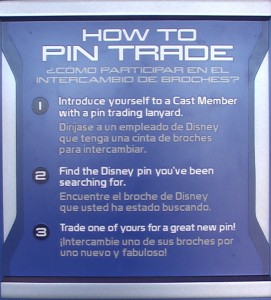 It seems that there are pins everywhere at EPCOT. The idea is great, a well made inexpensive souvenir with a wide selection available in nearly every gift shop and at special kiosks all around Disney World. They're really perfect for quenching the thirst for buying that many kids (and adults) get when tempted by so many things during a visit to the parks. Of course some have taken pins to the extreme and some of the "pins" are extreme. You'll often see people with lanyards adorned with dozens of pins of varying sizes. Sometimes it reminds me of "Mr. T". Pins are also are the most common Disney item on eBay and prices can sometimes go quite high. Signs at all of the pin stations explain trading and it seemed easy. But we were a bit hesitant to try it. Likely because we have only bought a few special ones over the years that we wouldn't want to trade away.
We were in the pin station recently where they were selling a mystery pack of Mickey pins.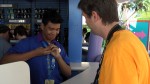 Some of the designs were ones we wanted, others were not. So we took a chance. In the three reasonably priced boxes we purchased there were a couple of pins that we were willing to part with. This seemed like a good time to try trading. Sure enough, we saw a monorail pin on a cast member lanyard that we liked. A minute later it was our first trade. It won't be our last.
I'd suggest you check some of the old Disney pins you may have around the house and take them with you the next visit. Alternately, pick up an inexpensive one at a kiosk. Then keep a sharp eye for new and unusual ones from cast members. Trading with them is a lot more fun right now than trading stocks.