Wednesday, November 19th, 2008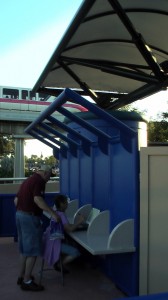 The kiosk taking shape in one of the former WorldKey information locations at the walkway to World Showcase is now where YOU provide the information. Peek around the back side and you'll see location for multiple computer workstations now in operation for completing visitor surveys. A cast member told me that guests are chosen at random to participate. The method of selecting participants is random and up to the surveyor. Rather than doing a stand up and prompted survey as they previously conducted, this location (which isn't quite finished) has participants seated at laptops and answering without assistance.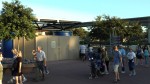 When I asked the cast member about the front of the kiosk which is still under construction he said "I don't know, they never tell us anything". (I've heard that before.) But speculation is that it may be related to the Kim Possible interactive adventure coming soon.